.
What does Ariston Mean?
Where does ariston Olive Oil come from?
Ariston History
Production and labeling
Why is the olive oil so green?
What does the acidity in the olive oil mean?
New Products
For more than 300 years, the Ariston family has been growing, producing, bottling, and distributing the best extra virgin olive oil from Kalamata Greece to the entire world.



As a customer-focused company we offer a variety of services including customized labels, high volume sales, refill and save program, gift basket supplies, and much, much more.

By now you know that when the ancient Athenians wanted to make their city, the two finalist gods were Poseidon and Athena. Poseidon struck the earth with his trident and water came out. Athena gave them the olive tree. Athena won and therefore the city was named Athens. That is a small measure of how much olive oil is loved for and cared for in Greece.

In Kalamata region (southwest of Athens) this love has been carried out for thousands of years. Today through us, you can taste the difference of a product of a thousands of years of experience.

In 1999, we finally found a balsamic vinegar (12 years old) from Modena Italy which was good enough to be called Ariston.



"Ariston" is Greek for "the very best".

.

Ariston Olive Oil comes from the Kalamata region of Greece.


Normally fresh olive oil and unblended are green in color. The green color is an indicator that the olives were pressed in less than 48 hours after they were picked. This results in less acidity in the oil and a full-bodied flavor. Other olive oils may appear green in color; however, the taste should indicate the quality (fragrant, fruity, and gentle.)


Acidity is the level of oleic acid in the olive oil. As mentioned before, olive must be pressed within 48 hours after they are picked. If left longer, the acid builds within the olive itself and leads to higher acidity levels. The lower the acidity, the better the olive oil is and the more desirable it is to the taste buds. The range of acidity should be from 0.3%-0. 7%. Ariston Select gives you an acidity of 0.4%. This fact alone makes this olive oil quite rare.
All our olive oils are produced by our family-owned farm and imported to the United States, the reserve is a limited pressing that is labeled with a date and is not mass produced.

This extra virgin gourmet olive oil is produced in a limited quantity, so get some today!

.
It is a too common practice by companies of the World to assume that the American olive oil market does not know enough about olive oil, therefore, they frequently ship them last year's harvest, or worse the year before that, as long as it is blended with 25% - 30% of a fresh olive oil. The American market usually does not recognize the difference! Meaning that the olive oil you have been using is usually of poor quality as compared to the rest of the World's olive oils!
Another practice is how these companies will use olive oil with high acidity (that does not sell well in Europe) and sell that oil here as "high quality extra virgin olive oil." Look at your gourmet olive oil in the kitchen…Does it say "Mixed Blend"?  It is a very common practice to mix oils from different countries, different harvests and since olive oil does not have to be certified by anyone you get whatever they want to sell you.
This practice does allow companies to sell olive oil at a much lower price but you always get what you pay for and the only thing they achieve in the long run is give the overall import of olive oil to the United States a bad world reputation.
Olive oil is not supposed to taste rancid or heavy. Instead, olive oil should be pleasant to the senses, with a gentle fruity taste of the olive.

It is true: Olive Oils should be classified according to its acidity level. The lower level of acidity means higher quality olive oil. How can you tell if the olive oil is low in acidity? The best way is by its taste. If the olive oil taste is smooth, fruity, no harsh after taste, then that means it is good quality olive oil that is low in acidity.
Peter, NY - "The 'Reserve' Extra virgin olive oil is very rich and creamy with a nutty finish, excellent" - Ariston 'Reserve' Extra virgin Olive Oil
Jennifer, MD - "We use a splash of the Reserve brand when we make our crab cakes. That little splash adds a terrific one of a kind taste. Like others have wrote 'Fruity' No Aftertaste and the color alone is like no other brand I have ever used, very good" - Ariston 'Reserve' extra virgin olive oil
John, CT - "Just terrific is all I can think of, just from tipping the bottle of the Balsamic Vinegar I could see right away  that it was thick as it coated the bottle. It is  a one of a kind taste. I marinated some pork and it came out phenomenal" - Ariston 12 Year old Aged Balsamic
George, NY- "This olive oil has a heavy body and a very bold color, the finish was very nice and fresh." - Ariston 'Reserve' Extra virgin Olive Oil
Deborah, NJ - "The oil had a very delicate taste. I though it would be overpowering but it was not, excellent infusion! I added it to my flounder's after it was done cooking and it added a very light but bold taste. I would highly recommend this on Fish" - Ariston infused Rosemary extra virgin olive oil
Jan, HI - "I usually use peanut oil in my wok, but now I only use the select. I tried using the Reserve olive oil but I save that for salads. The shake and server is my favorite product as I use it on all my salads. Excellent! "- Ariston 'Select" Extra virgin Olive Oil
Daniel, NY - "This olive oil had a very mild flavor with a think peppery finish. Very thick and luscious." - Ariston 'Reserve' Extra virgin Olive Oil
Jimmy, TX - "I use this to mix with my butter when making grilled cheese sandwiches, it adds a unique taste and my wife loves it. It is very good for the price and I use it daily" -  Ariston 'Select" Extra virgin Olive Oil
Garry, CT - "This is great, the combination compliments itself. The balsamic vinegar is sweet and the oil is fruity. I love this on my salads as it tastes unlike any other salad dressing. Delicious" - Ariston Shake and Serve balsamic vinegar and extra virgin olive oil
Jennifer, OH - "I am very pleased you sell the large size, gallon. It seems like a lot of oil but since I have been using this oil very frequently it's perfect for our family. Keep it up!" - Ariston Shake and Serve balsamic vinegar and extra virgin olive
Jeffrey, CA  - "I should have purchased a lot more, it went so fast in our house..we already need more and I just got it 10 days ago. This balsamic is super for marinade. It adds a certain fruity and smoky finish….i hope they never run out…keep on aging!" - Ariston Cleopatra balsamic vinegar
Sue, FL - "We love the shake and serve salad dressing…its perfect outside in the sun. The balsamic vinegar has a distinct taste like no other balsamic vinegar I have ever tried…and I swear I tasted them all in the past 20 years. Just think they started making this half way into my life….WOW" - Ariston Cleopatra balsamic vinegar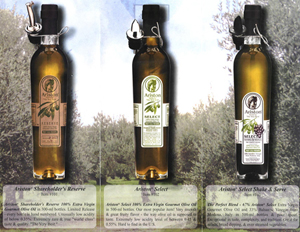 CLICK TO ENLARGE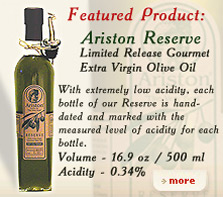 Limited Pressing 'Reserve' Gourmet Olive Oil

We offer a variety of products in a variety of serving sizes and options.  From the rich tasting Balsamic Vinegar to the low acidity reserve limited, We supply products great for cooking, dressings, and items superb for gift baskets.  We invite you to explore our ever expanding products and hope you'll try it and see why it is the very best.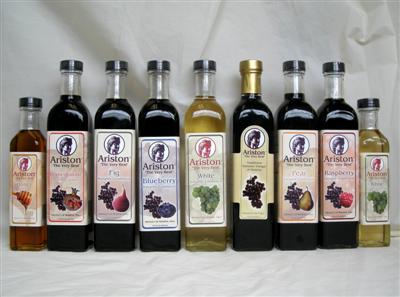 Our brand new lineup of infused with flavor balsamics,
imported from Italy